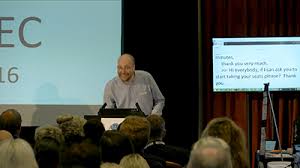 On Thursday 24th of November 2016, Head of Operations Theresa Pruvost attended the second ATEC Conference at Mercure Sheffield St Paul's Hotel.
Theresa says,
"It was really interesting to listen to speaker Hector Minto, who is Senior Technology Evangelist for Accessibility at Microsoft.  He talked about how Microsoft are embedding accessibility into all of their technology developments.
"Another really interesting speaker with Gareth Ford Williams who is Head of Accessibility at the BBC and he talked about new technologies such as 3D radio and virtual reality becoming more mainstream within the BBC.
Theresa continues,
"I also attended a number of workshops on assistive technology as well as learning more about the changes within Disabled Student Allowance.  The conference presented a great networking opportunity and the chance to discuss the BEACONING Project with a number of university representatives."