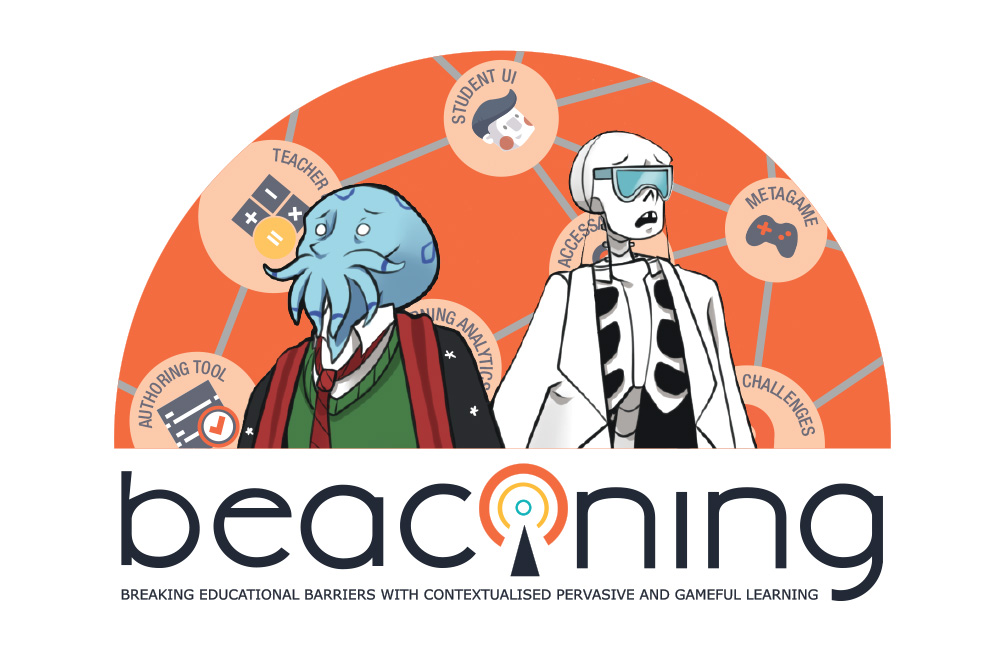 Coventry University have been developing new artwork and narratives for the 'meta-game' plots of the BEACONING platform. Our intention was to create examples of three structured narrative formats, as a complement to the meta-game narratives already available for Teacher Authoring of Gamified Lesson Plans (GLP). Coventry University will conduct research around the use of these structures within the BEACONING platform.
Over the past six months, two talented Student Activators from the University's Illustration programmes have been working with the Disruptive Media Learning Lab team at Coventry University to devise, select and develop characters to be the protagonists of these structured narratives. Two principal characters, Professor Tibia and Professor Rob, have been created by Student Activators Rachael Till and Vytautas Vasiliuskus. The meta-game narratives have been built by Coventry University Research Associate Dr Jackie Calderwood, with guidance from BEACONING partners at Succubus and Playsoft for scripting into the level and scenario editors.  Teachers can select from the different narratives available and build a series of GLP encounters for their students that draw on the stories emerging:
The four Basic Narratives each contain a guiding character who introduces each mini-game, acts as a coach encouraging the learner and giving different responses for pass or fail of each game. These are currently available guided by each of the Professor Tibia and Professor Rob characters in English, French and Turkish, as a first play experience and a 'Step 2' for returning players.
Two Linear Narratives each feature a story about the origin of one of these curious characters, with challenge points for the player, at which mini-games are encountered. These are currently available in English, with multi-lingual versions in development.
We are currently developing an adventurous Interactive Narrative featuring a branching narrative whereby students encounter different parts of the narrative depending on the branch chosen.
As the narratives progress, these guiding characters break out of the conventional classroom and lab environments, in adventures that see them travelling through space…
The Professor Tibia and Professor Rob characters have captured the imagination and already travelled to several BEACONING events across Europe, appearing on posters, leaflets and business cards, designed by DMLL Researcher Mark Lewis for BEACONING.