During the 17th International Conference on Web-based Learning (ICWL) held in ChiangMai, Thailand, from the 22nd to the 24th of August, 2018, Professor Baltasar Fernández Manjón (UCM) presented the full paper Making Understandable Game Learning Analytics for Teachers.
ICWL is an annual international conference on Web-based learning, founded by the Hong Kong Web Society. The 17th ICWL Conference featured a technical program of refereed papers selected by the international program committee, keynote addresses and a Doctoral consortium. Game-based learning and Serious Games appeared among the topics of interest of the conference.
The abstract of the full paper presented by Baltasar Fernández Manjón, entitled Making Understandable Game Learning Analytics for Teachers, was the following:
When used for education, games can increase students' motivation and engagement and provide a more authentic learning environment where they can apply knowledge, making them especially suited to schools. However, actual application of such (serious) games in schools is still limited. Teachers still consider that using games is a complex process that they do not fully master and that requires extra effort from them. We consider that simplifying teachers' tasks when deploying games is crucial to promote their use. In classroom scenarios, teachers can greatly benefit from knowing what is happening as a serious game is being played. Game learning analytics (GLA) is the process of collecting, analyzing and displaying student interaction data with the games to improve the educational experience. GLA can be used both at real-time, providing teachers with information while their students are still playing, and offline, inspecting already-finished game sessions. In both cases, analytics is only useful when it manages to bridge the gap between large collections of interaction data and pedagogically sound insight. Analytics dashboards should therefore provide not only complete but meaningful and easy-to-understand information, considering that teachers will most probably not know all the details of the analyses performed underneath. In this paper, we review our experiences on game learning analytics dashboards for teachers, and describe some of the steps we have taken to improve our dashboards.
The full paper can be accessed openly in the BEACONING Community in Zenodo.
More information about the ICWL 2018 Conference can be found at the conference website.
The slides of the presentation can be found in SlideShare.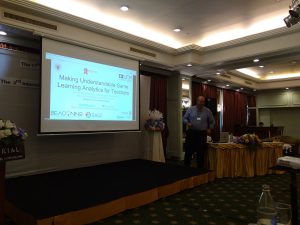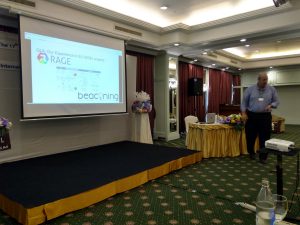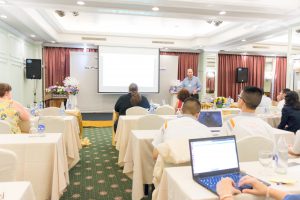 Pictures of Baltasar Fernández Manjón presenting at ICWL Conference.